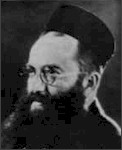 Yankel der Hezeriker, aka Jacob Gottlieb (1852-1900) Chassidic Kaddish
Cantor Chayim Frenkel, Tenor
National Opera Chorus and Orchestra
Joseph Ness, Conductor
YANKEL DER HEZERIKER, A.K.A. JACOB GOTTLIEB (1852-1900)—CHASSIDIC KADDISH
May God's name be exalted and hallowed throughout the world, as is His wish...
May God's great name be acknowledged forever and ever...
May the prayers and pleas of all Israel be accepted by their Creator in Heaven. Amen...
May the One Who brings harmony on high, bring harmony to us and to all Israel. Amen.
In Chassidic belief, whatever seems foreign to godliness, even a secular melody, is only estranged from it and can be reunited with the Divinity, provided it is wedded to a sacred text. This doctrine has spurred cantors over the past 200 years to "reclaim" Romanian shepherd calls, Russian ballads, Polish military marches, Austrian waltzes and Ukrainian love songs for synagogue use. One such tune, attributed by some scholars to a Chassid named Yankel Gottlieb, passed through many hands and was recorded by such notable cantors as Josef Rosenblatt (1882-1933) and David Koussevitzky (1911-1985).

Gil Nagel's arrangement captures much of the elation and emotional release associated with the anxiety felt at the conclusion of Neilah on Yom Kippur, just before a final Shofar blast signals the "closing of the heavenly gates." Its joyous mood reflects worshipers' conviction that the slate has indeed been wiped clean for them by God.